Valentin White (Val)
His Song: "Breathing" by Lifehouse
Traits: Brave, Discipline, Family Oriented, Handy, Kleptomaniac, Loves the Outdoor, Adventurous, ?, ?
Age: 18.5
Favorites: Green, Pop, Ratatouille
Birthday: August 4
Zodiac Sign: Leo
Hobbies: Fishing, martial arts, playing guitar.
Dream Career: International Super Spy/ a Professor
LTW: To become a Renaissance Sim
Having raised by almost perfect parents, one was a science researcher (Alexander) and the other was an artist and professional blogger (Helen), Valentin has had a wonderful childhood.
After he lost his family in an accident he pledged to protect everyone he loves, especially Rosaline. Thus, he can become very over protective of her which was not always ended in a good way.


He's quite diligent in what he does and even when there are obstacles to get what he wants - and not to mention the mistakes he did and he may do- still his determination to forge ahead is far greater than his own fears.
Latest education : High School
Friends: Miraj Alvi, Eddy, Pierre Claude, Mortimer Goth, Malcom Landgraab.
Romantic: Rosaline white (currently in love), Annabelle Trottier (ex-girlfriend)
First Job : Cashier, Fisher, (currently working as a cashier in Dutiel's antique store by Nraas Register)
His other favorites: His father's old scooter "Scoopie", Rosaline's home made Frog Legs.
His favorite moments: spending time with his father ( fishing, collecting leaves & rocks while learning science); doing folk dance with his family, and seeing Rosaline in his T-shirt while brushing teeth together, lol.
His favorite quotes: "Don't underestimate on small catches! Little ones are a part of an important thing." - Alexander White-
Other facts about him: After the incident in the sea and his head got struck by a piece of wood from overturned boat and the trauma for losing his parents, Valentin is suffering from a kleptomania disorder
Rosaline Lisle White (Rose)
Her Song: "I'll be Your Love" by Yoshiki
Traits: Bookworm, Excitable, Family Oriented, Good, Green Thumb, Hydrophobia, Shy, Unlucky.
Age: 16.5
Favourites: Irish Green, French, Pancakes
Birthday: June 20
Zodiac Sign: Gemini
Hobbies: reading books, gardening, cooking, playing the piano and drums.
Dream Career: Becoming a doctor or a teacher
LTW: To Become a World Renowned Surgeon
Rosaline dreams of someday having her own farm with ducks, chicken, and horses completed with the laughter of children coming to learn a thing or two from her. A daughter of Eve Lisle.
At a first glance, Rosaline may appear weak - since her body is quite thin and her skin is pale- but everyone around her may fall in amazement, including Valentin for seeing her willpower in everything she does. Lively and caring, she's able to getting along with everyone, though, actually, she's very introvert and often has a hard time expressing her true feelings.
Mrs. Ivy said that she's a bad luck bringer for having others around her mysteriously died, including her real mother (Eve) and both of Valentin's parents. Her father refuses to acknowledge her as his child. Still, Rosaline, being an innocent young gal, faces her future with courage and determinations that one day she will be able to help others in need.
Latest Education: High School
Friends: Pierre Claude, Annabelle Trottier, Marie Louvre.
Romantic: Valentin White (???), Pierre Claude (crush/best friend)
First Job : Waitress, Baby Sitter
Her other favorites: Helen White's unpublished books, butterflies, butterfly bracelet (a gift from Valentin), Black Beauty movies
Her favorite moments: reading a book in her small garden in the backyard, stomping on the grapes in the Nectary with Valentin, seeing the stars using telescope in a tower, and looking at the view from a balloon ride with her friend, Pierre.
Her favorite quotes: "Isn't it splendid to think of all the things there are to find out about? It just makes me feel glad to be alive--it's such an interesting world. It wouldn't be half so interesting if we know all about everything, would it? There'd be no scope for imagination then, would there? -- from Anne of Green Gables by Lucy M. Montgomery
Other facts about her: She suffers hydrophobia after the accident in the sea and has some repressed memories.
His song: "Hot Air Balloon" by Owl City
Traits: Artistic, Friendly, Hopeless Romantic, Lucky, Photographer's eye
Favourites: Spice berry, Pop, Sushi
Zodiac Sign: Aries
Hobbies: painting, writing poems, and playing drums
He left the orphanage with a sad farewell to all of his friends and determined to be nice to everyone for having known the feelings of loneliness.

He met Rosaline when she was trying to pick pomegranate fruit on the top of the tree in Jean Luc Pivert Garden. Giving her a hand, he accidentally fell from the ladder, Rosaline helped him and since then they become good friends.
Annabelle Trottier (Annabelle)
Traits: Neat, Hot-headed, Charismatic, Great Kisser, Commitment Issue (used to be inappropriate).
Age: 17 (YA)
Favourites: Aqua, Indie, Stu Surprise
Zodiac Sign: Scorpio
Hobbies: sculpting
LTW: Star News Anchor
Annabelle -energetic, lively and strong-willed- may seem like a hard, cold, girl, but deep down, she misses the warmth of a loving family. Being disappointed from the divorce of her parents, her view of love shattered. She met Valentin when they were playing chess in the park and as she saw the sincerity in him, she started to have feelings for him.
Traits: Dramatic, Hopeless Romantic, Coward, Artistic, Neurotic
Age: 16.5
Favourites: Blue, Classical, Waffles
Zodiac Sign: Sagittarius
Hobbies: doing research for new fashion concepts
LTW: Fashion Phenomenon
Marie Louvre is a nice, sweet girl who helped Rosaline when she first arrived in their school , a school known for its high tuition fee, but high valued for its standard and discipline.
Marie is a beautiful girl and admired by many students. Unfortunately though, she's not quite confident about herself. Her mother died after giving birth to her sister, Amy and Amy's death from a cancer worsened it. She felt incapable and is always avoid being inside a hospital.
Alexander and Helen White
Alexander White
Status: deceased, married to Helen White, has a son (Valentin)
Traits: Bookworm, Genius, Clumsy, Light Sleeper, Handy
Career: Mad Scientist
LTW: To become a Creature-Robot Cross Breeder
Alexander White is an expert, famous for his inventions and had won a patent right for his last discovery: a cure for cancer. But an explosion in his underground lab caused him to lose his royalties and even the society rejected him and forced the family to leave Sunset Valley.
Helen White
Status: deceased, married to Alexander White, has a son (Valentin)
Traits: Artistic, Natural Cook, Easily Impressed, Vegetarian, Frugal
Career: Professional Blogger, a part time writer.
LTW: Illustrious Author
Helen White has a passion in writing. Every publisher she turned to, put her books down and always told her to "Come again five years later when you've got it all polished." Still, she's stoical about it, but had put her worries aside by supporting her husband's career and tried to be a good mother for her children.
IVY SHAW
Status: Age 40, married to Vince Shaw, has a daughter (Madeline Shaw)
Career: A business woman --owns a lot of companies and secretly dwelling in black market
LTW: Living in the lap of luxury
Always appears mysteriously, no one really knows about Mrs. Ivy's past, except someone who is now being treated in psychiatric hospital, and even though she is living in a life full of luxury, the woman with pride and prejudice-- and who would refuse to submit to an authority of a man -- still cannot find her peace of mind, and perhaps will never come into terms with herself and with the shadows in her past.
.
In 2010, Von is an ex-convict of murderer and a runaway prisoner who once betrayed the government for unknown reasons. He's well-known in the SCIA (Sim's Central Intelligence Agency) in justifying any means to achieve his goal. In 2185, he is a Commander of a battle spaceship and also a time traveler.
EVE LISLE
Status: deceased, has a daughter (Rosaline White), Helen White's best friend.
Eve is the biological mother of Rose. She was raised in an orphanage with Valentin's mother, Helen. Her life is quite tragic: having no husband beside her as she gave birth to a baby girl (Rosaline) and then died in a car accident when Rosaline was four.
From the first time they met -at the time Valentin helped her by catching the thief who tried to steal her wallet, -- Madeline has been trying to ask him out, but apparently Valentin is oblivious. She's living in Sunset Valley, but occasionally visits Champs Les Sims to run her father's hotel "Hotel Fleur Eternelle".
Special Agent Grant (Grant Sam)
Agent Sam has been spending his life chasing the criminals that he even sacrificed his family life. Still, he's lucky enough to have an understanding woman who supports him throughout his career (Dr. A.J. Anderson).
Robert Matheson
A political candidate for the next election in Sunset Valley.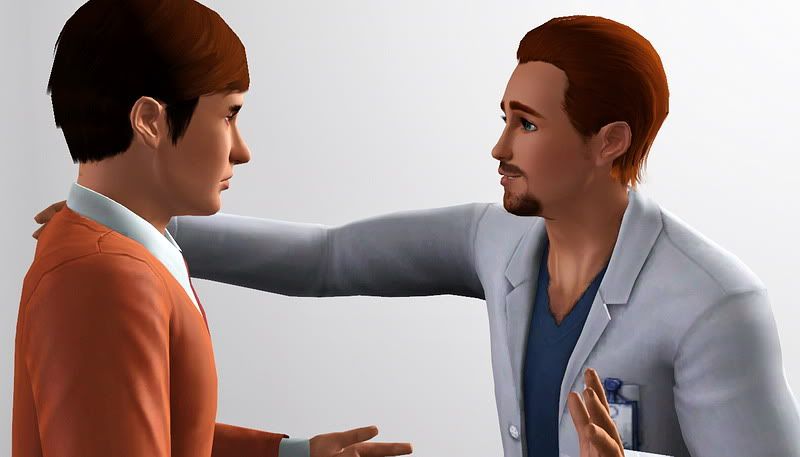 A young doctor who is still in his residency program and will leave France as soon as he finishes the program, and then will continue his training and medical education in Sunset Valley.
Vince Shaw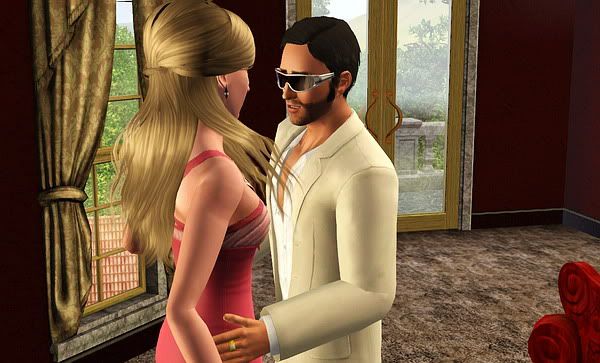 An owner of Hotel Fleur Eternelle. Mrs. Ivy's husband.