I could not believe that she didn't show up on our wedding day. I thought she really wanted to marry me, but that special day vanished like a bad dream. All of the guests invited left the venue with only curiosity and questions in their minds. Some of them even laughed, mocking at my stupidity, including Aimee.
How could she? Did she change her mind at the last minute? If that's true, what had changed her mind? Didn't she love me?
That day was supposed to be the most beautiful day in our life, but she ruined it at the least moment.
When everyone had already left, I was still there, sitting on chair, staring at a candle, wondering and
pitying over myself
, over the gap that I could not fathom, over the reason behind her decision: the one that should have united us in the love that we have shared together, the one that would bind us and bring us closer than before --  the one that would lead us to a wonderful life that she and I would have together.
I thought she was happy, and she wanted me to be there for her throughout her life. It never came across my mind
 that
she would eventually decide to take another path without me inside it. At least, she should have told me first, before I rented the venue and placed things in orders, before we ordered the cake and bought our wedding dress, before the wedding day finally came and everyone invited came only to watch me alone at the altar.
I loved her... Why did she do this to me? At a time when I was so seriously involved with a woman and decided that it would be for the last time. Then, bang... the truth hit me in the face: she turned me down. I thought she loved me. Lila, honey...why?
Perhaps I should call her and ask her for her reason. Perhaps she got trouble on her way and ... oh,  I didn't  want to think about it, but what if she got an accident?
I reached for a public phone nearby because my cell phone was dead. I only got two coins in my pocket, so I dialed her number and waited long enough for an answer .... until the ringing tone finally ended. I guessed she really didn't want to talk to me, even to explain anything about it. How
could she..?
Damnit!! I threw my cell phone onto the ground until it fell apart. My whole body felt weak, and it wasn't because of pain from a disease. The pain stabbed into my chest and my soul broke down into pieces until  finally I fell down onto the ground. I tried to hold it, but my tears were dripping. No! I must not cry! A man should not have cried for a woman who might not even love him truly. Lila probably never loved me. It all must have been nothing between us. Our relationship meant nothing for her. She was lying all those times. A true liar...she was nothing more than a liar.
I got up slowly from the ground and reached for the phone again. I had one coin left in my pocket.
***
That night  it felt chilly because of the drizzly rain that moistened the soil. I made two cups of hot coffee with no sugar in both cups and then turn the radio on. I waited for her to come that night. She said she also wanted to talk to me. She had enough of it  and needed a friend to talk to.
"Everyone was right. He- he''s been lying to me the whole time. I should have noticed the changes in his attitude. I was stupid. I'm such... a stupid woman." She said in tears after I greeted her in front of the door. Her clothes were wet. I asked her to change her clothes so she wouldn't get any cold. But I didn't have a woman's cloth, only a long white T-shirt, the one that I bought for Lila in case she chooses to spend a night here. I guessed Lila would never wear it.  After she had worn the T-shirt, she took a cup of hot coffee which I had prepared for her.
"I'm sorry to have called you at a time like this. " I said. " I did not know why,  but you're always easy to make others feel lighten." She and I were sitting on the dining chair,  enjoying our coffee. She glanced at me, feeling sorry for my experience of  being left at the altar.
" I wish I could do something to make you feel better, but I'm sure you will be happy without her either and will find your true happiness."
"Thanks." I smiled at her. The kettle made a sound from the boiling water.
I went to the kitchen to take the kettle from the stove, but while I was on my way  there, I thought about Lila and about  what should have happened on our "should have been" wedding day. I took the kettle from the stove without any pot holder. In a quick move, lifted it up with my whole palm against it, until my hand spontaneously reacted because of the heat. My chest held the kettle from falling off to the floor. It worked, but my shirt got wet, and my skin turned red because of the hot water spilled onto my chest and my arms. I took off my shirt and tried to find another one.
While I was on my way to the bedroom to grab a shirt, I went through the living room and found her crying in front of the door.
"Are you leaving?"  I asked.
Eva Drudge wiped her tears after she noticed me. "Sorry, Dave, I thought I could handle this. But, I can't. I bored him. He slept with that girl, and it's because I bored him."
"Eva... " I hugged her. " You know, it's not true."
Eva and I were close, closer than before.
"Dave...." She said  after I let her loose. "I don't want to come home tonight. I want to stay ...with you. Would you accompany me?"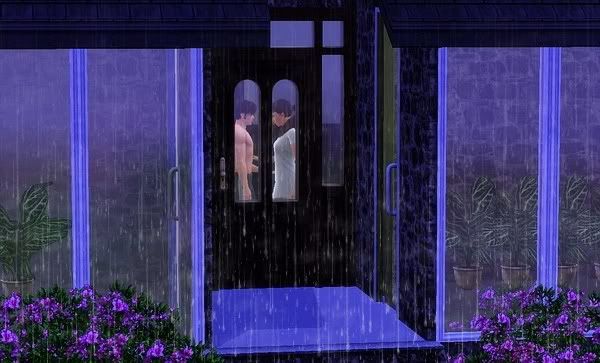 "Are you sure?" I asked  her before I let go of her hands.
"Yes."
That night the rain was pouring heavily outside the window. The air was cold and we both were two lonely people.